A trip to the colourful 'CINQUE TERRE'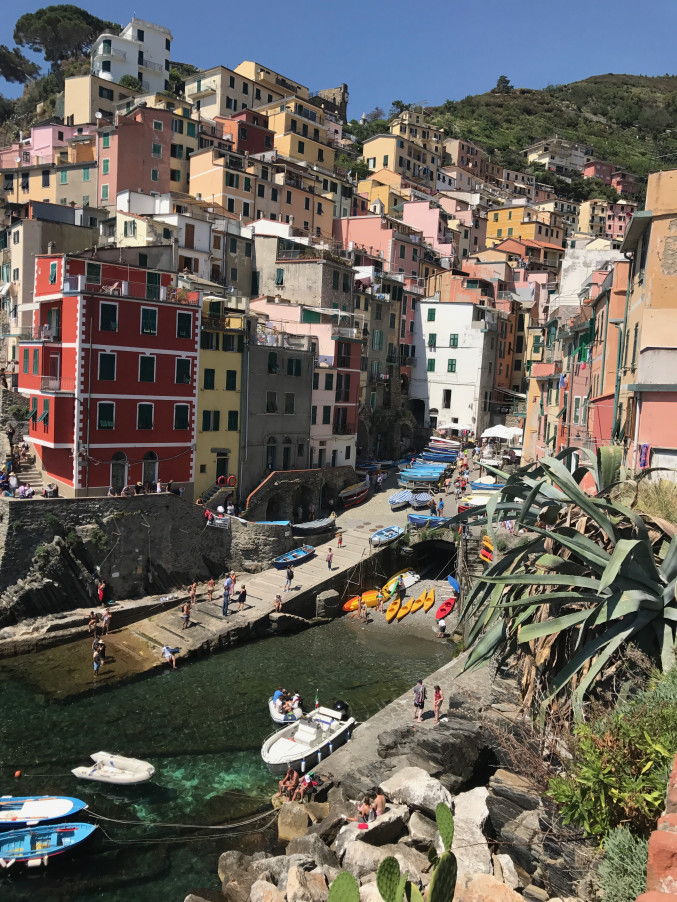 This photo, taken from one of the gorgeous villages I came across on a week's village trecking/hiking around the incredible unesco site of Cinque Terre.
Based in the Liguria region of Italy, just a short train ride from Pisa (Changing trains @La Spezia) The area, linked by train, brings you to these most colourful villages, that are packed with their own uniqueness and splendour.
Beginning with a trip to the more coastal village 'Monterosso Al Mar', this is probably the largest and most touristic of the 5 villages, with a large stretch of beach,  a 2.5 hour cliff hike to 'Manarola' the first of the very colourful and for me the most beautiful of all. A further short walk along the cliff edges leads you to 'Vernazza', where the 'wild at heart' dive and jump off cliff rocks a fun experience to watch. 'Corniglia' is the only village that doesn't lie on the coast, with a short train ride from Vernazza to a 382 step climb, worth the views to die for. Lastly to Riomaggiore.. now secretly tipped as one of the most unspoilt surprise destinations to visit and… I have to agree, it is heaped with buckets of charm and colour.. almost like a life painting ..that could crumble into the sea at any moment!….some people call them imperfections but no, that's where the good stuff lies!.
The coastline and villages are surrounded by hillsides, olive groves, lemon and fruit farms and part of the UNESCO world heritage site. A must for all adventurers and arty lovers! X 'fino all prosoma Volta'
Restaurant choices – there are multitudes of restaurants at each village. but 3 top choices would be:
Da Eraldo (Piazza Matteotti, Monterroso Al Mar) – watch out here.. Carbs overload, Pasta is so fresh and a true Italian experience.
Belforte, (Vernazza) – with breathtaking views, make sure to book in advance. Restaurant in a climb into a medieval stone tower.. Seafood is a treat.
Fuori Rotti – for views, large wine menu & aperitifs.
Stay – I would recommend staying outside the 5 villages.. as each place is accessible by train. Both Levanto area and Dieva Marina area  are lovely (Hotel Clelia www.hotelclelia.com) which feature a pool, a luxury for Cinque Terre region!. Enjoy XX
Italia, it never ceases to be so beautiful and inspiring. X