"Those who believe in magic will find it"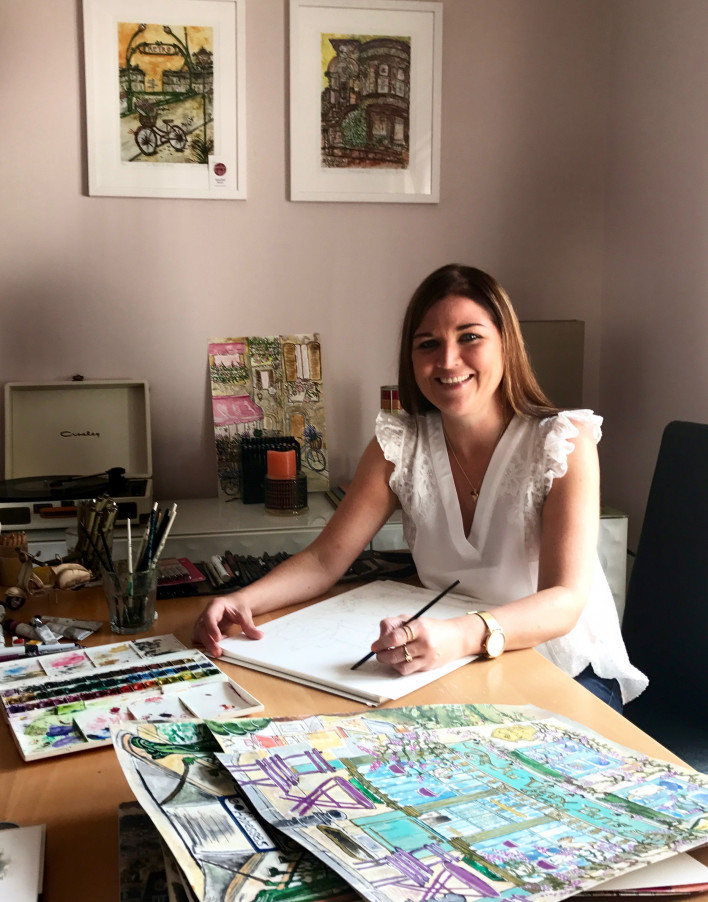 Sinéad Rock, is a Dublin based Illustrator & Artist. currently living in Dalkey, Dublin.
Living & drawing in the village of Dalkey, Dublin, I have always had a huge passion for design work & illustration.. Having a degree in music and a natural flair for all things creative, I began drawing at a very young age of 3.
My business career began in the family business, 'Dance World' Dublin, both designing and creating and being a hands on business designer. After 17 years  there, working as director of sales and operations, travelling, and constantly drawing, I decided it was time to specialise truly in my art and love for colour and self expression.
Moslty self taught, specialising & with my qualification in illustration.. and dabbling in abstract… Art to me is where I can completely self express.  Mostly through my travels and my love for Cities, luckily where I have had a chance to spend much time to develop my collections, their cultures and through nature and its surroundings …. I've been lucky to come across the most beautiful eye-catching places and playlands, packed with fun, energy and excitement.
Cities, to me, are heaped with splendours of noises, shapes and perfumes, gentle silhouettes and flowing edges, a controlled chaos that reflects wonder and varieties within.
In each of my illustrations, I capture the essence and beauty of striking architecture, facets of street life and nature, through detailed line sketches using fine ink pen and explosions of colour mostly using guache and watercolour.. with some floral trees bursting their branches from my 'In Blooms' collection using oils. It's through these colours that I connect with some of my favourite memories… favourite places, I have lived and visited for a while and my life. A world where, you too, can delve and get lost in its beauty. Each piece online features a background story delving into what and how the place inspired me.
I hope you enjoy my work. I'm available on email for any queries and commissions.
Magic wishes,
Sinéad x
---