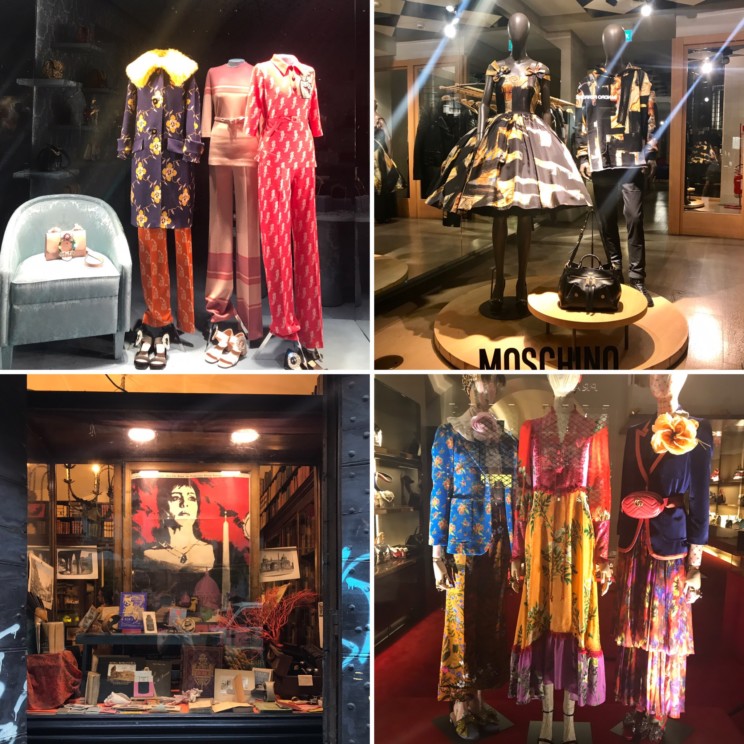 Ten years ago, acquiring great vintage pieces in Rome was expensive and time consuming. There were a few premium resellers,  they wanted a lot of money for their old stuff. But as vintage appreciation has increased in the city and throughout the world, conversely, the options and the prices have become much more reasonable and variety is fantastic around the city.
Take a trip along the street off piazza Di Spagna to see how 2017 iconic fashion brands such as Gucci, Prada, Moschino all are completely influenced by the iconic style.. a multitude of eclectic colourful shop windows, and an eccentric price tags to boost its adoration… but follow the fabulous eye catching streets to a few well kept secrets:
Bohemienne – 'Via Dei Cappellari', 96 (Campo Di Fiori area) – Bohémienne is predominately for women, with an incredible selection of accessories in particular. Mixed into the variety of vintage is a lovely of collection of leather hand bags, handmade by one of the owners. The stock and displays have a soft, antique feel about them, full of old-world charm.
Flamingo Vintage – 'Via Del Boschetto' 123 (Monti area) – great, but boutique style selection of vintage and well-preserved designer wear. This store has the smart ladies vintage who have polished outfits, perfectly accessorized with Chanel sunglasses and YSL shoes. Flamingo is for designer ladies with attitude and an eye for funky style.
Twice Vintage – 'Via San Francesco di Repa', 7 (Trastevere area) This hip little store in Trastevere keeps its stock incredibly up to date, reflecting the current trends- denim, preppy and hipster accents, with a huge range of quality shoes. It has a cool, downtown vibe about it, think rustic Americana with a dose of sportswear.
Omero and Cecilia – 'Via Del Governo Vecchio' 110 (Piazza Navona Via Cavour Area) The quality of vintage available here is impressive- think violet sure skirt suits, flowing 70's dresses and band jackets. Each garment has been carefully preserved, offering immediate wear, and has a guaranteed uniqueness. The hats are worth a special look in- it has possibly one of the best selections in Rome.
… and when shopping has finished don't forget to travel home, in style, on one of the local transport systems – the vintage Vespa – in an array of colours down every alley way!  🙂 Zoom Zoom and happy shopping – Bella Roma xx SR