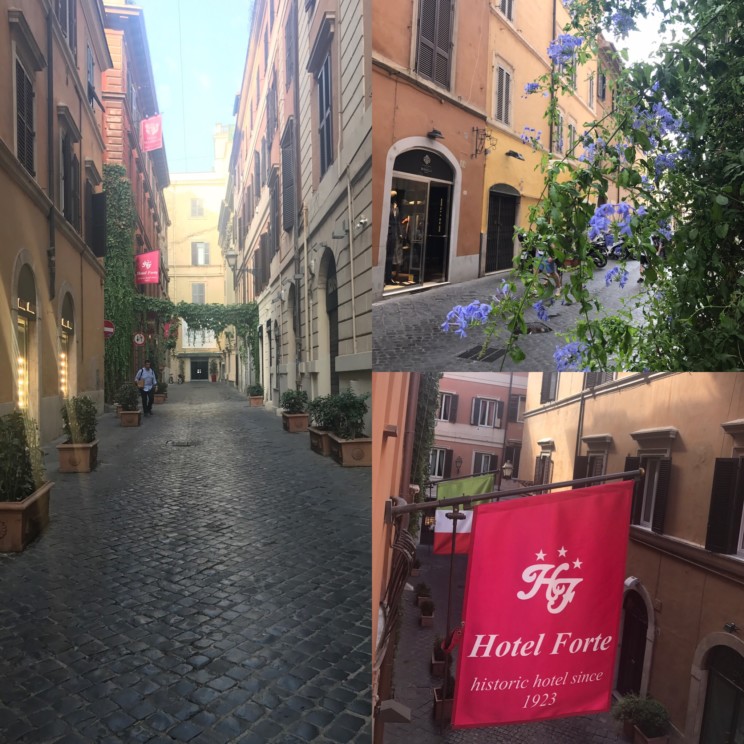 "The best thing I know is to do exactly what you wish for in life, for a while" – Audrey Hepburn, Roman Holiday.
And this is exactly how I adapted my Roman Holiday experience, that took me to a fabulous old historical hotel of 'Hotel Forte, Via Margutta, a street made famous in 1953 – where Audrey Hepburn & Gregory Peck in the movie Roman Holiday, attracted attention to the public eyes, by staying in one of the modest 16th century houses. Via Margutta is a narrow cobble stoned street, where ancient buildings are covered with Ivy and wild wisteria, a street in the centre of Rome, situated between Piazza Di Propolo and Piazza Di Spagna, accessible from the street Via Del Babiuno. Via Margutta originally was home to modest craftsmen, workshops and stables, but now hosts many art galleries and fashionable restaurants.
The 'One hundred painters of 'Via Margutta' is an annual street art fair, where over 100 Roman artists gather to host a week long festival of art from 28th April each year. the Street is currently host to many art galleries and museums, and to an array of beautiful restaurants, 1 in particular catering towards vegetarians, but what better way to enjoy fine Italian dining then being surrounded by superb artwork. (11 Margutta Ristorarte)
Via Margutta, a true artistic cultural charming drop of Bella Roma. xx SR.