Chelsea's row of galleries along west 21st street between 10th & 11th Ave includes some of the finest galleries in the NYC gallery world, offering the latest contemporary art for both the casual gallery-goer and dedicated connoisseur.
I was lucky enough back in November 2017 to experience such a thrill, with each gallery providing free entry and an opportunity to witness some finest worldwide artists, one in particular, was the inspiring, (known and found for the 'mile long' queues (Not joking)) was the fabulous Yoyoi Kusama, the Japanese contemporary artist, active in painting, performance, film, fashion, poetry. She is best known for her conceptual art, minimalism, surrealism and pop art styles. She has been acknowledged as one of the most important living artists to come out of Japan.
IN 2011, Kusama created artwork for six limited edition lip glosses for the brand lancome, as well as working with the designer Marc Jacobs, who was inspired by her line of Louis Vuitton products, and so, created for Marc a line of accessories, shoes, watches and jewellary. These products were available at a soho pop up shop, which was decorated with Kusama's trademark images of her polkadots.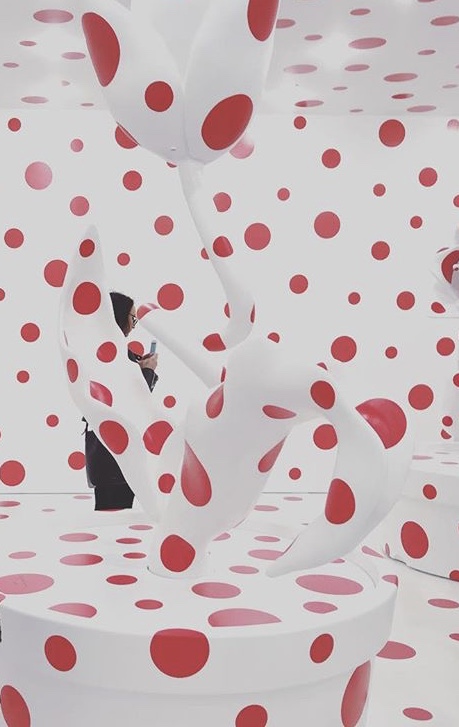 Her work, Displayed in the 'David Zwirner' gallery, showed off her selfmade journey to greatness and quite possibly showing that she maybe the greatest artist to come out of the 1960's. The 'Infinity' rooms on view in chelsea, give her paintings a forcefulness, with their imaginative images and sculptures, rooms that could win over any new fan. One room is a hexagonal box with mirrored interior, shows a changing light show, a sensation of flying above a cityscape.
My favourite room at the gallery, was a room (Photo above) titled 'With all my love for the Tulips, I pray forever' – a simple white room containing three large sculptures of tulips in which everything is covered with red dots, a room where you can experience, through her eyes, her innocent fun of art.
Kusuma in her life, experienced psychological imbalances that led to periods of hospitalisation (in childhood she began to experience visual and auditory hallucinations and continued) thus leading her to the paintings of red dots.
It is the vitality of the artist, that is infectious, the art that keeps her now alive.
(David Zwirner gallery is located on 525 W 19th Street, NYC.)
Exhibition was on display November 15th 2017.
Shop 'Colour In the City' Collection for more NYC enjoyment.
_________________________________________ XX SR